RTT - provide RF engineering and radio technology support to the cellular radio industry, broadcasting, two way radio and satellite industry.
We provide RF consultancy support to operators and vendors, helping them to make faster and better decisions on radio frequency (RF) technology, engineering and infrastructure investment with a specific focus on 5G and satellite technologies.
---
5G Research from RTT
To be economically sustainable, 5G will need to go faster and further at lower cost using less power than present and future 4G LTE systems.

In terms of the physical layer, considerable research is being dedicated to massive MIMO systems implemented in TDD spectrum.

However it is hard to see how this approach can deliver significant benefit over present and future Wi-Fi technologies.

5G will need to be capable of supporting high data rate high mobility users in wide area large radius cells with a dynamic range of the order of 100dB.

This can only be done economically by exploiting fractional beam width antennas deployed into FDD spectrum with channel bandwidth ratios that are efficient both in terms of RF efficiency and multiplexing gain.

By default this requires 5G to be deployed into the centimetre band (channel bandwidths of 250 MHz) and millimetre bands (channel bandwidths of 500 MHz and 1 GHz).
This means that it is essential to coordinate 5G technical and commercial planning with existing and future satellite industry business models, satellite spectum and (FDD) band plans, satellite space assets, satellite network topologies and the satellite industry supply chain.
---
New syndicated research study from RTT, Policy Tracker and The Mobile World - coordinated in association with Collaborata.
'A timely and critical investigation into 5G and satellite industry supply chain economics and spectral and space asset value'
The study provides a definitive economic and technical analysis of the 5G and satellite industry supply chain with an associated forward forecast of future asset and business value and relative competitive positioning.
Follow this link for more details
http://www.collaborata.com/projects/186

---
RTT joins 5GIC as an affiliate SME partner.
We are pleased to announce that RTT has been invited to join the 5G Innovation Centre as an affiliate SME partner.

Based on the University of Surrey Stag Hill Campus, 5GIC is one of the principal centres of excellence for 5G related research and we look forward to working with the 5GIC team on 5G and satellite spectrum and standards issues and related supply chain implications.

Click here to read the press release

---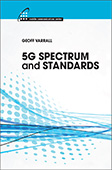 Learn about the real life performance trade-offs between the metre band (300 MHz to 3 GHZ), centimetre band (3 GHz to 30 GHz) and millimetre band (30 to 300 GHz) by ordering Geoff's new book 5G Spectrum and Standards
available from Artech House:
http://uk.artechhouse.com/5G-Spectrum-and-Standards-P1805.aspx




RTT Technology Topics reflect areas of research that we are presently working on.
We aim to introduce new terminology and new ideas to help inform present and future
technology, engineering, market and business decisions.
This month's (February 2017) technology topic New-UWB discusses the potential for implementing Ultra-Wide Band radio between 57 and 71 GHz immediately proximate to the lower passband for 5G E band

On the RTT website there are over 200 topics ARCHIVED starting from August 1998. The archive provides a free valuable resource for researchers in the industry wishing to use past case study experience to validate technology, engineering, market and business decisions.
If you would like Technology Topics sent to you
automatically each month then please join our Subscriber List
Technology topics from January 2017 onwards are also available as a podcast.
Follow this link to download.